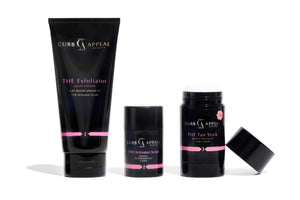 Regular price
$75.00
Sale price
$85.00
THE System $75
THE Exfoliator (6 oz)
THE Activator Scrub (2 oz)
THE Tan Stick (2.65 oz)
$80 Value

EXFOLIATOR & ACTIVATOR SCRUB
Description
Step 1 The Exfoliator & Step 2 The Activator Scrub – THE DYNAMIC DUO
Sold as one product, but kept separate – THE Exfoliator Glycolic Acid Mask is scientifically formulated to be used exclusively in combination with THE Activator Scrub prior to using THE Tan Stick, enhancing your skins ability to maximize absorption of THE Tan Stick - providing a longer lasting, more evenly fading natural-looking tan.
Combining the microdermabrasion crystals with the glycolic acid mask creates a whipped mousse texture. This activating of ingredients allows for a completely customizable exfoliation experience to be used on both FACE and BODY, thus providing a spa-level treatment in the comfort of your own home.
*Cruelty Free *Sulfate Free *100% Dye Free *Vegan *Paraban Free *No Artificial Fragrance *Phthalate Free *Customizable
Directions
Step 1 The Exfoliator & Step 2 The Activator Scrub Directions: Mix desired amount of Step 1 THE Exfoliator glycolic acid mask and Step 2 THE Activator Scrub microdermabrasion crystals (approximately a nickel-sized of each product) per area of the body), activating the two products. Use less scrub for sensitive areas such as face or neck and more for drier areas such as knees, ankles and elbows. Rub mixture in circular motions evenly over the skin to begin exfoliation process and continue mixing and applying product until you have completely exfoliated from head to toe. Rinse off product and dry off completely BEFORE applying Step 3 THE Tan Stick.
Key Ingredients
THE Exfoliator: Glycolic Acid effectively removes the outmost layer of dead skin cells and accelerates surface cell turnover, revealing brighter, fresher skin. Avocado Oil contains vital omega-3 fatty acids and Vitamins A, D and E leaving the skin moisturized and soft. Citrus, Lavender and Eucalyptus oils boost mood and relaxation. Activating the two products together leaves skin feeling fresh, toned and refined.
THE Activator Scrub: Microdermabrasion Crystals are finely ground to ensure an even smooth exfoliation. Pink Himalayan Salt is sustainably sourced from ancient sea beds and contains trace minerals. Citrus and Lavender essential oils boost mood and promote relaxation.
Ingredients
THE Exfoliator: Water, Glycolic Acid, Glycerin, Stearic Acid, Decyl Glucoside, Potassium Hydroxide, Caprylic/Capric Triglyceride, Persea Gratissima (Avocado) Oil, Cetearyl Alcohol, Hydroxyethyl Acrylate/Sodium Acryloyldimethyl Taurate Copolymer, Arginine, Glyceryl Stearate,PEG-100 Stearate, Glycol Distearate, Cetyl Betaine, Phenoxyethanol, Ceteareth-20, Pentylene Glycol, Citrus Aurantium Dulcis Peel Oil (Orange Oil Valencia), Lavandula Hybrida Oil (Lavender Oil), Eucalyptus Globulus Leaf Oil (Eucalyptus Oil), Litsea Cubeba Fruit Oil, Sodium Chloride, 4-t-Butylcyclohexanol, Bisabolol, Glyceryl Oleate, Ethylhexylglycerin, Disodium EDTA, Zingiber Officinale (Ginger) Root Extract, Polysorbate 60, Sorbitan Isostearate, *Sodium Hydroxide, *Dodecyldimethylbetaine, *Myristyl Betaine
THE Activator Scrub: Ingredient List: Alumina (Corundum), Sodium Chloride (Himalayan Salt), Sodium Bicarbonate, Limonene, Hydrated Silica, Eucalyptus Globulus Leaf Oil (Eucalyptus Oil), Lavandula Hybrida Oil (Lavender Oil), Litsea Cubeba Fruit Oil (Citrus Aurantium Dulcis Peel Oil (Orange Oil Valencia), Linalool, Citral
TAN STICK
the starter kit to a summer glow, all year round
Ready for a healthy, sunless glow, year round? We thought you'd say so. Introducing THE System. This is everything you need to get started with a gorgeous summer tan that leaves you radiant and beaming, no matter what season you're in. We're saying goodbye to winter blues, hello to an all year, summer GLOW!
one product replaces them all
Tired of having a separate exfoliation product for your face, yet another for your body and even a third for your feet? Vanity real estate is precious, so replace all of them with one product that is formulated to be used top to bottom. Welcome to a new exfoliation experience, one that leaves it completely in your control. Tailor made to be more or less aggressive, depending on the area of the body you're exfoliating. Got your attention? Good.
customized exfoliation at it's finest
Ok, here's our secret, we've separated our Activator Scrub from the glycolic acid mask so you can get as picky as you want to be. Let's be real, our elbows, knees and ankles need a lot more aggressive scrub than our face or decollete. Simply add more activator scrub crystals and you're well on your way to smooth, healthy skin.
a beautiful glow, in a stick
We spent years using other sunless tanning solutions and kept fighting mess after mess, orange color, uneven streaks, and awful fading. Ughh, we were over it. So we went to work and came up with our patent pending, innovative Tan Stick. Your sunless glow, in a seamless applicator stick. Glide over your skin, rub it in, sleep and voila, wake up GLOWING! True definition of "beauty sleep".